Resources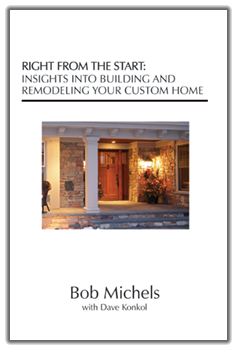 Right From the Start: Insights Into Building and Remodeling Your Custom Home
This comprehensive guide is an essential resource to anyone considering building or remodeling a custom home. This book offers insightful and pertinent information to today's homeowners. It provides a fresh perspective that will help to make the process of home building or remodeling an enjoyable and elevated experience.
Packed with wisdom and practical knowledge, this essential resource reveals:
10 critical questions to ask before you build.
The 7 best places to spend money on your home.
How to avoid 11 homeowner mistakes.
What most people fail to do when choosing a builder.
Surprises that could inflate your costs.
Solutions to 8 misunderstandings between builders and homeowners.
7 helpful checklists to keep construction on track.

To download your free copy of "Right From the Start: Insights Into Building and Remodeling Your Custom Home" choose from the following links:
Apple Download Kindle Download
To read the book you will need to plug your device into your computer and save the file into the device folder.
To request a hard or soft cover, please complete our online contact form, here.