Blog
Michels Homes Lead Designer, Megan Dent, Takes Home Two NKBA Awards!
Congratulations to our lead designer, Megan Dent, on winning two awards in the National Kitchen and Bath-Minnesota Chapter Design Competition! Megan took home 1st and 2nd place awards.

The NKBA-MN Design Competition recognizes and showcases excellence in kitchen and bath design. These awards reflect Megan's talent and expertise in the principles of design.

Check out Megan's award winning work below and for more design inspiration, follow her on Instagram.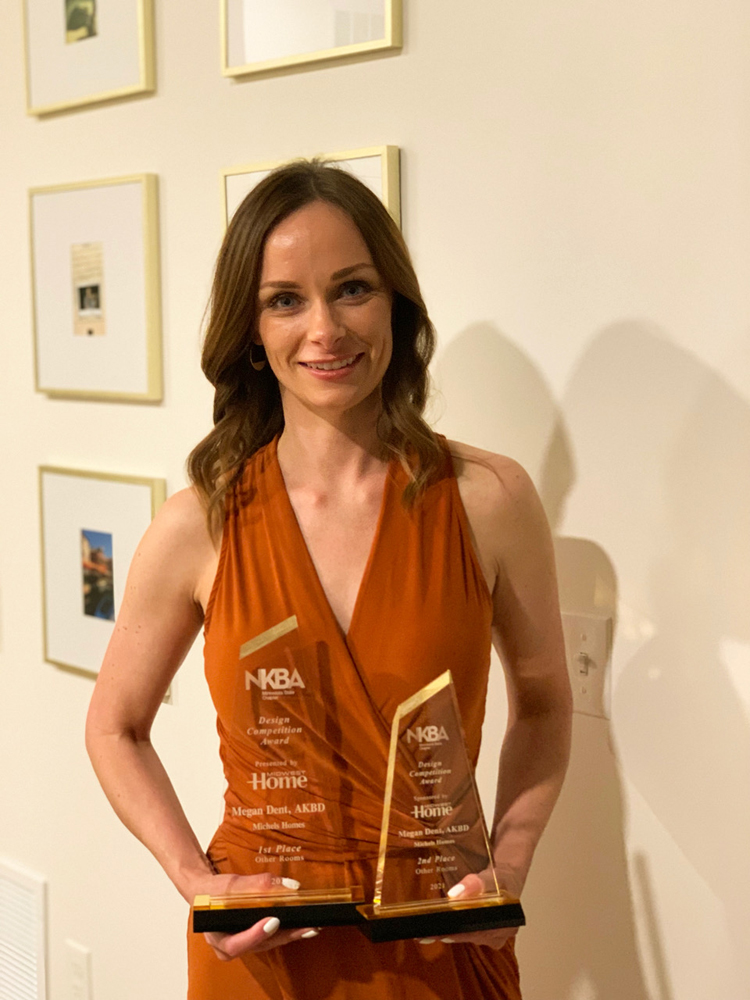 ENGLISH PANTRY ADDITION:
"When a retired couple built their forever home back in 2010, they didn't fully understand how the new floor plan would flow until finally living in it. Although they loved their new home, they quickly realized that there were a few things they would have done a little different. The majority of the floor plan issues were confined to the back entrance and kitchen area. The path between their garage entrance and into the kitchen was quite active and often congested. There was no designated mudroom space and things got tight when bringing in things like groceries. One of our client's biggest complaints was when a person was using the refrigerator, no one else could pass by, causing a bottle neck in the main thoroughfare.
After 10 years in the house, they decided it was time to come up with a solution and build a small addition. This addition would serve a number of purposes and it came in the form of a "Pantry". This new pantry space acted as the buffer between the kitchen and back entrance and solved many of the homeowner's everyday frustrations."
Check out a few before and after photos of the pantry addition below, and to see more from this project click here.
BEFORE:
AFTER:
MODERN & STYLISH LOWER LEVEL
"Our client who was near retirement and on the cusp of selling her business, decided to move out of her city condo to a quieter home out in the suburbs. The house she purchased was a relatively new property set on a couple of acres. It was beautiful but she wanted to make it her own and decided to do a whole-home remodel. All three floors of her new house were nearly gutted and re-built with custom finishes and materials that reflected her own style and living needs.
The lower level was initially not at the top of her priority list and was less important than the other spaces like the main floor kitchen and owner's suite. She didn't envision herself spending much time, if any at all, in the lower-level spaces but knew that it needed to be remodeled anyway. Occasionally she'd entertain and thought her adult children and family would enjoy spending time in the space playing a game of pool or enjoying a refreshment in the bar. The bar in particular was in need of a full re-design. It was outdated, had a poor layout and was not conducive for entertaining or enjoying a bottle of wine out of the adjacent wine cellar.
By the time the remodel was completed, the lower level became one of the most loved spaces. She now finds herself using the lower level more than she ever thought."
See a stunning before and after from the lower level below, and to see more from this project, click here.
BEFORE:
AFTER: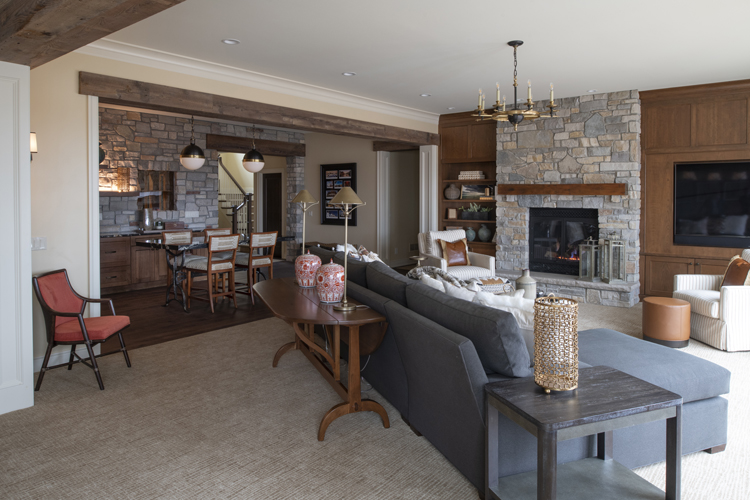 ---
‹ Back