Blog
Project Feature: Modern Classic Kitchen Remodel
This dated kitchen lacked storage, counter space, and functionality throughout. Our goal for this remodel was to maximize space, upgrade and modernize all components and finishes, and create a space that would be perfect for our clients to entertain.
To address the issue of limited storage and counter space, we opted to remove the wall that separated the kitchen from the existing living room. Doing so doubled our space for the new kitchen and provided us with the opportunity to transform the underutilized living room into a formal dining area. With the additional space, we were able to build out our client's vision of creating a kitchen that would be perfect for entertaining.
The double islands are a standout component of the new kitchen design. Each serve a specific purpose. One incorporates a custom butcher block table and acts as the dedicated spot for meal prep and cooking and the other island is designed for casual dining and entertaining. Tucked within the islands are a number of creative storage solutions making them functional as well.
Another design must-have for our clients was to incorporate custom cabinetry for all storage needs. Our clients love to utilize small appliances, so it was important that the updated kitchen could easily store them. The new design includes a special pantry cabinet that was designed so that each small appliance would have its own shelf and be easily accessible.
An additional highlight from the space is the unique sink design that gives the illusion of a farmhouse sink. The front was completed in Cambria Quartz Ella finish and features a wood drip rail to catch any spills.
The kitchen comes complete with a desk area perfect for keeping bills, to-do lists, and keys in an organized and dedicated spot, a bar area with a beverage center, high-end appliances, a custom range hood, and beautiful hardwood flooring. The updated dining room features a modernized gas fireplace surround in a charcoal soapstone suede finish.
The kitchen features a timeless design that incorporates clean and classic paint colors, rich woods, unique light fixtures, and elegant countertops.
We successfully took this project from concept to completion in just under 3 months! The new spaces are modern, practical, and inviting. Thank you to Studio M Kitchen & Bath for partnering with us on this project!
Check out the design for the project as well as some before and after images from the remodel below!
DESIGN: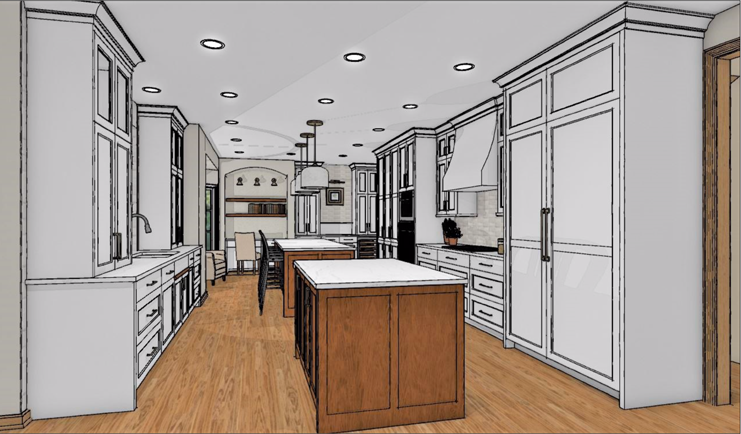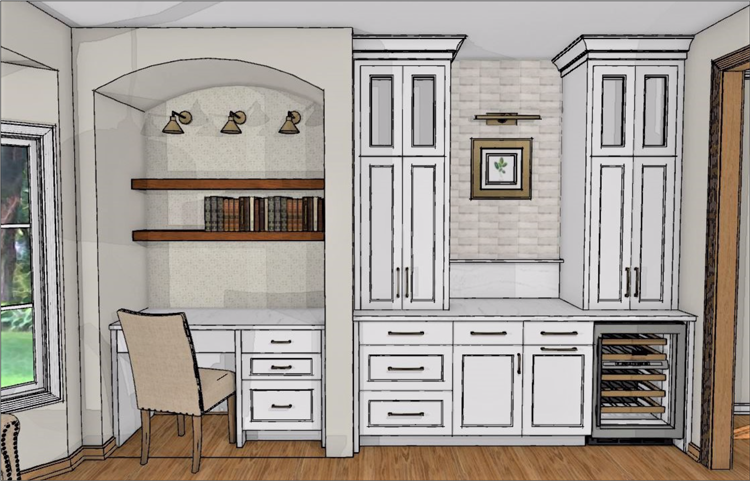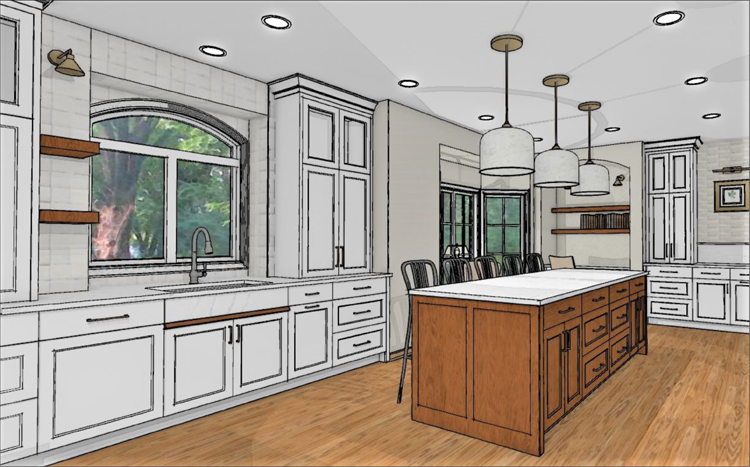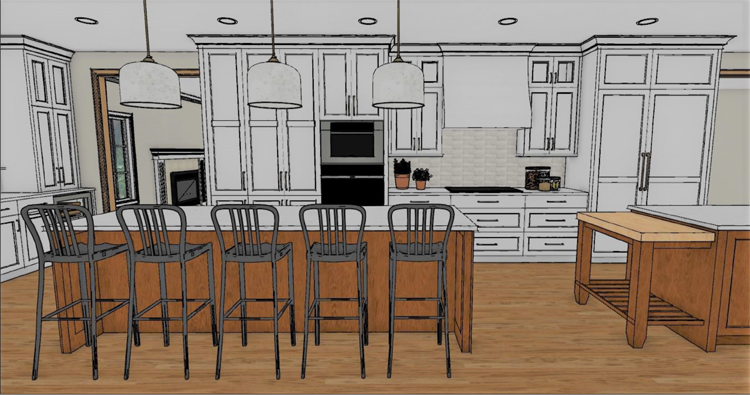 BEFORE: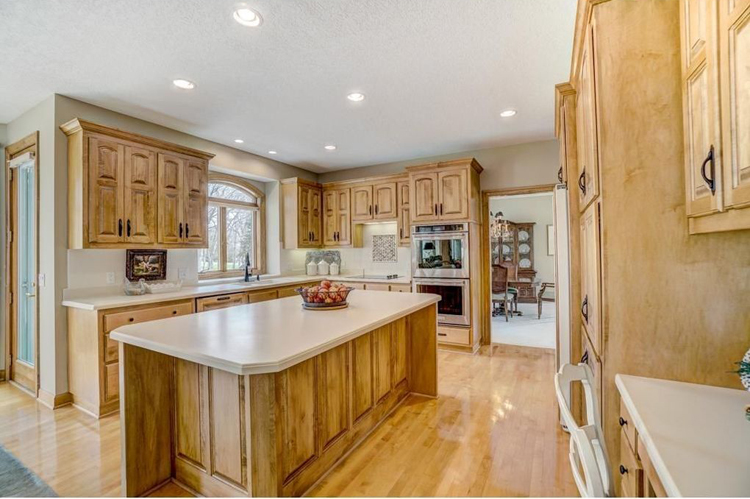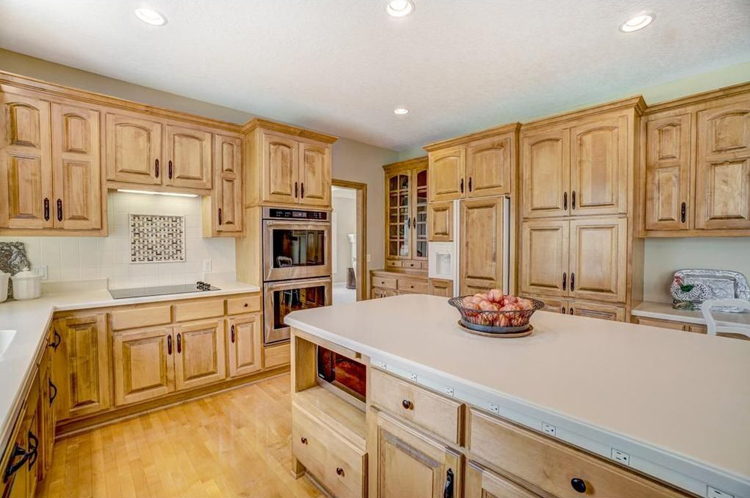 AFTER: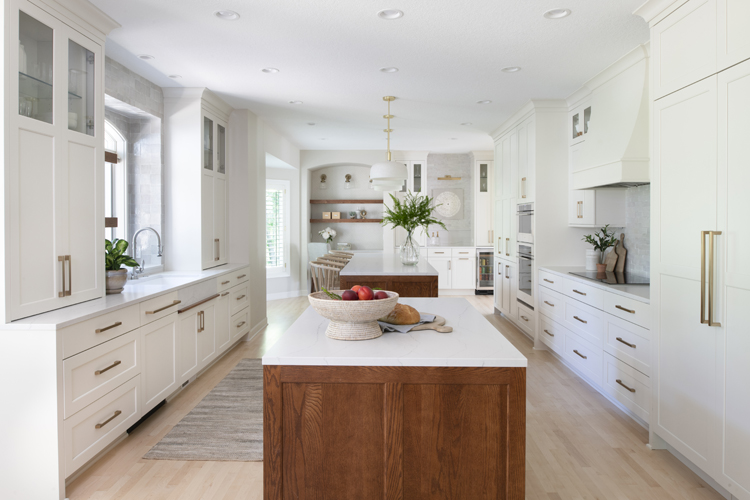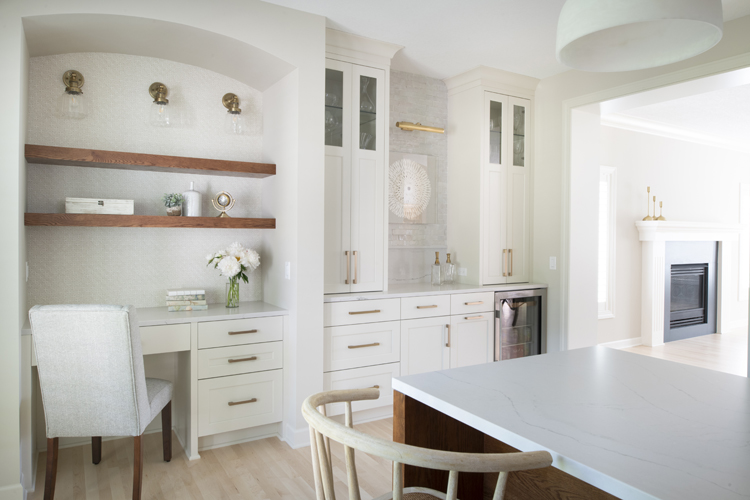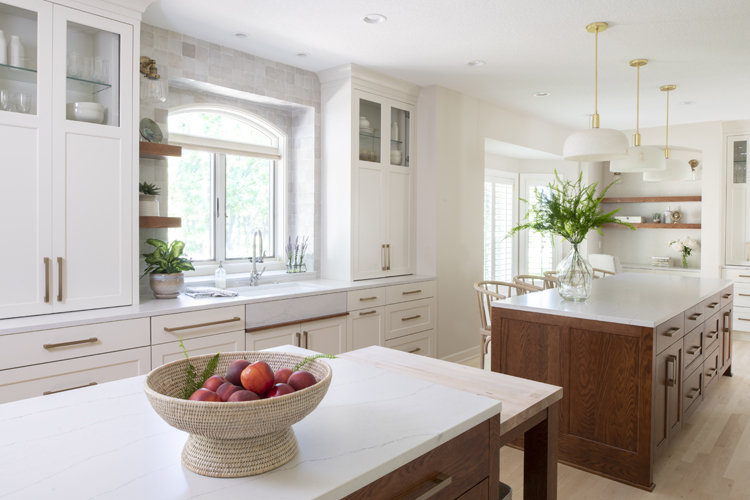 ---
‹ Back